Crawl Space Mold Abatement
Do you have a musty smell that you can't get rid of? Often a strong odor of mold in a home can be traced to the crawl space.
Ever looked in your crawlspace and noticed mold or mildew? We can remove mold and mildew quickly and safely with our new state of the art, chemical-free, mold remediation equipment.
What You Can't See, Can Hurt You
As you probably know, mold is an allergen that can cause suffering for people with allergies or respiratory problems. Sometimes, mold can even be deadly. So it's best to contact a professional to assess and remedy whatever problem you are having with mold.
Our Process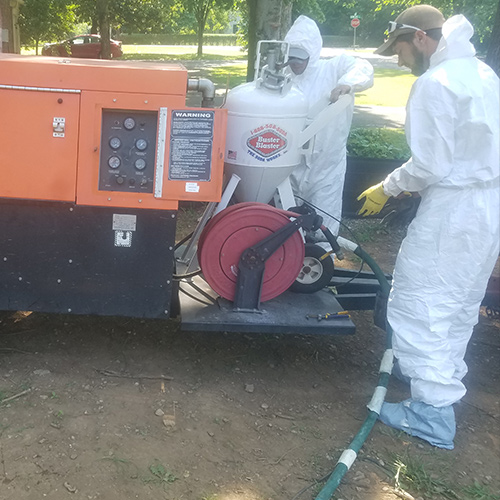 Are the chemicals used to remove mold in your home as bad as the mold itself? Are you worried about breathing the fumes? The Clean Air Co. LLC., uses state of the art equipment that is chemical free and environmentally safe. It will not harm people, pets, or the environment.

To remove mold, we use high pressure equipment that blasts the mold away with a natural, environmentally friendly ingredient - sodium bicarbonate (baking soda). Soda blasting is a relatively new technique that has proven to have a high level of effectiveness. As an additional benefit, when we're finished removing the mold, we haven't left behind a toxic substance.  

The equipment we use for getting rid of mold and mildew is similar in theory to a sand blaster. But instead of using sand, it uses soda. So it is completely chemical free, completely safe for people and pets, and, of course, does not harm the environment. With our equipment, mold and mildew removal is thorough and complete - leaving you peace of mind for your home, and family. Call us for your crawl space mold clean up needs.

Following the soda blasting, we will fog the entire area of the crawl space with "Mold Control" by Concrobium.  This product will eliminate any remaining mold spores and prevent them from coming back. The wood surfaces will be dampened by the fogging with the mold control. As it dries it will crush the remaining spores (if any), and then it forms a barrier on the surface of the wood to prevent future mold growth.
Improve the air quality in your crawl space! 
Contact us today to schedule a free, professional consultation.