Over the years, we have seen and done a lot of things when it comes to crawl spaces, mold abatement, and air duct cleaning. Here you can see some of the photos of our work. And we do mean our work. No stock photos here! All photos were taken at our clients' jobs.
Photos of Our Crawl Space Services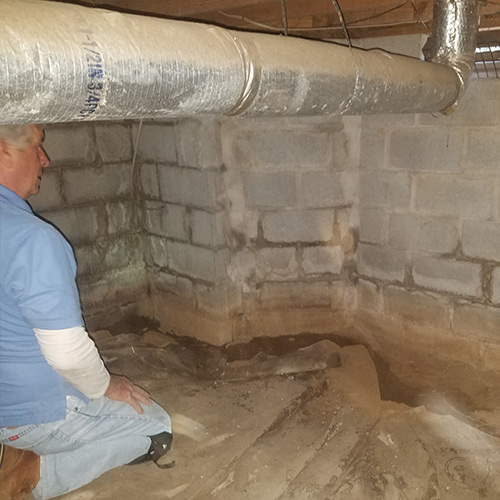 Before recommending a custom solution for your crawl space, we inspect inspect the crawl space thoroughly - up close and personal!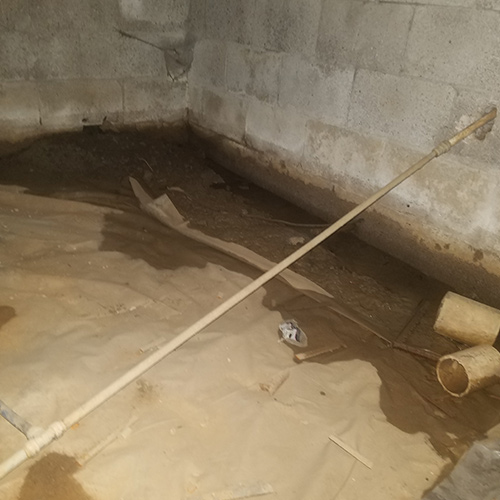 Here a vapor barrier has failed because it has pulled away from the walls of the crawl space (probably caused by workmen crawling around on it to service the HVAC or plumbing).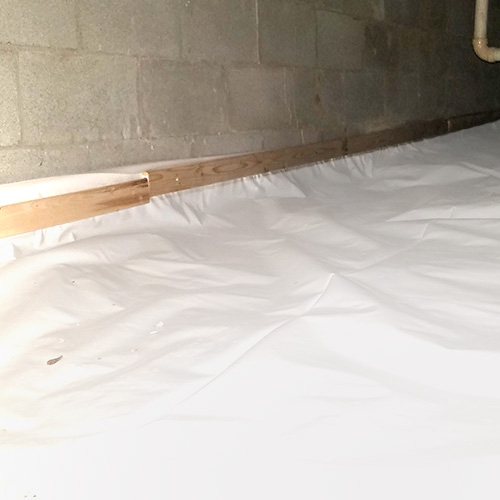 Our deluxe vapor barrier is attached to the walls with a termination strip to keep the sheeting in place whenever anyone is crawling around on it or dragging tools across it.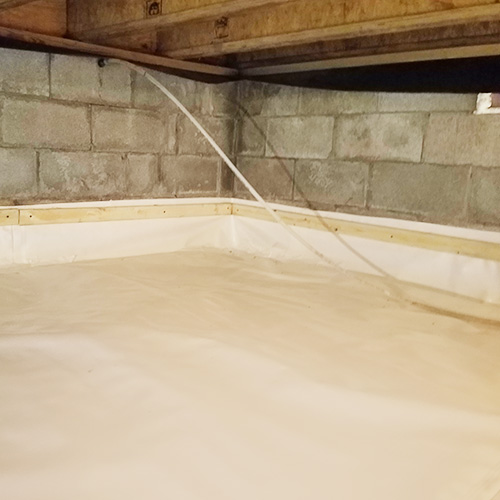 A deluxe vapor barrier is generally attached one block high. This method is used when an encapsulation is not necessary.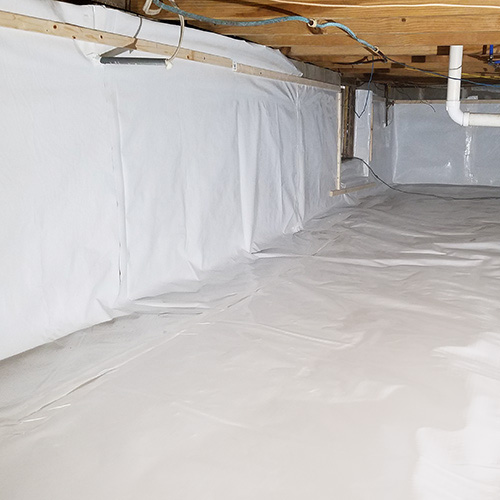 Total encapsulation also uses a termination strip to hold the polypropylene sheets at the top of the crawl space walls.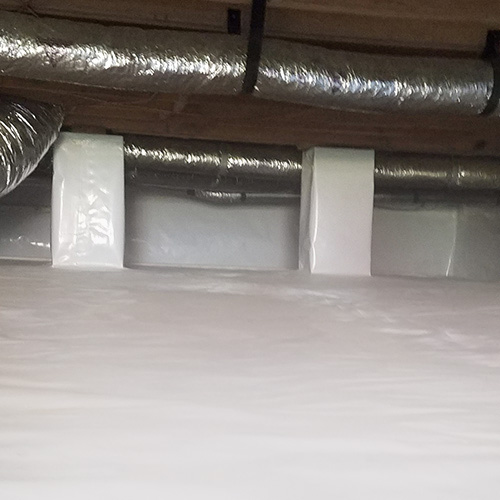 A total crawl space encapsulation means that every part of the crawl space - floor, walls, and support columns. All seams are sealed so no moisture can get in anywhere.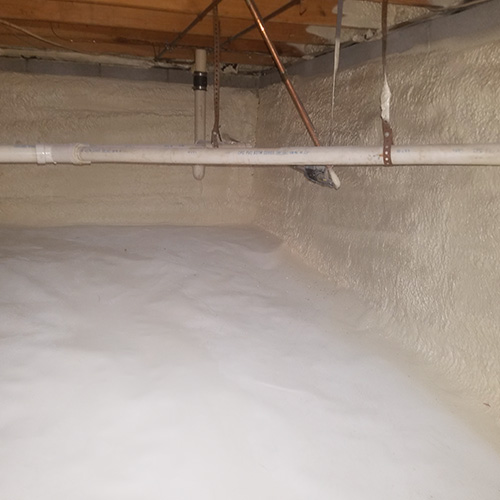 This encapsulated crawl space has foam walls. Because this older home had a poor foundation, it needed some extra work.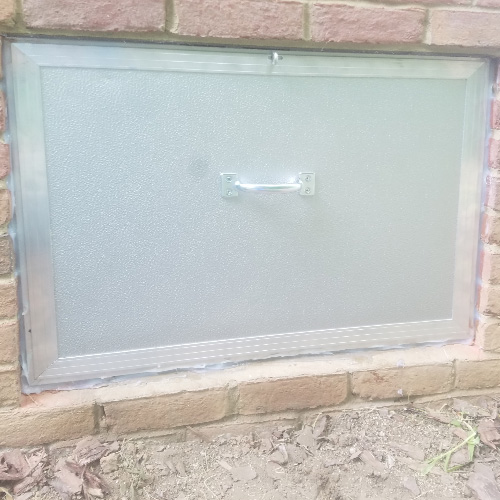 This is our standard crawl space door that fits a standard opening (32" x 24"). 75% of homes have an opening this size. The door is insulated and air tight.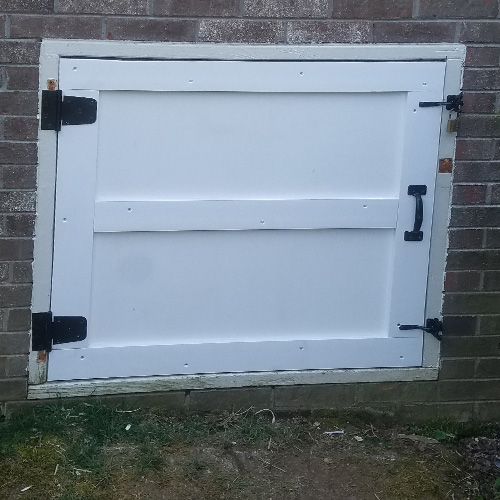 If the crawl space opening is not a standard size, we can make a custom door as on site. The door is made of marine board and PVC. Insulated and air tight.
Photos of Our Mold Abatement Services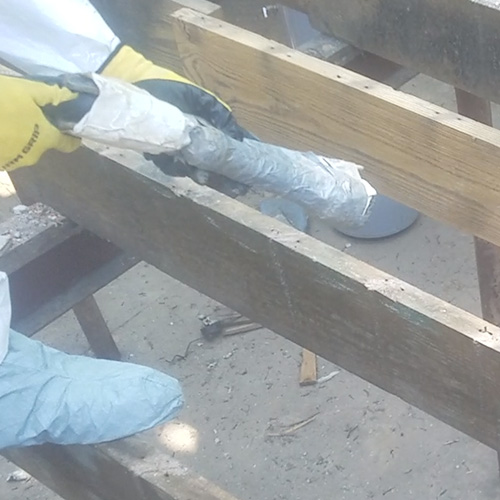 A good photo is difficult to get in a dark crawl space while you are blasting with soda, but this photo shows the difference between the wood that has already been cleaned and the part that still has mold on it.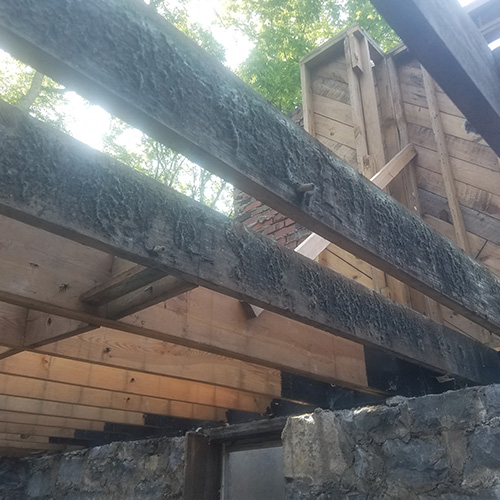 This photo shows floor joists with terrible mold and joists that have already be cleaned. This may be one of the worst cases of mold we have ever removed, and you can see how effective our soda-blasting equipment is.
Photos of Our Air Duct Cleaning Services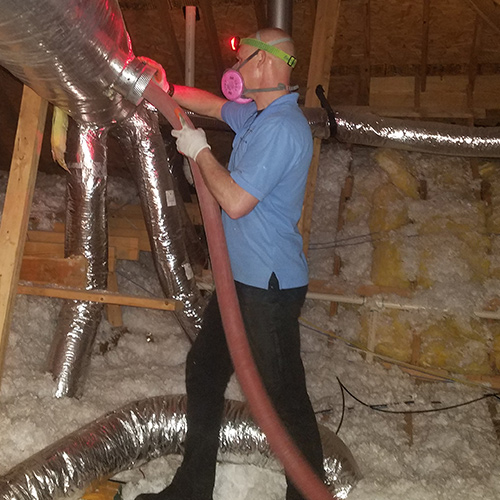 We clean all air duct vents wherever they are located. As you may be able to tell, this one is in the attic.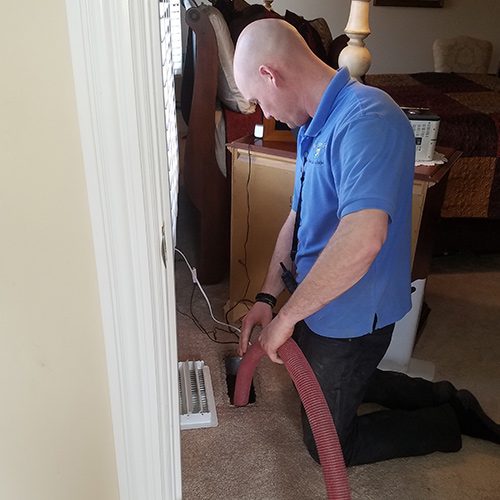 Our air duct cleaning hoses snake into the ducts to clean the entire length of the ducts.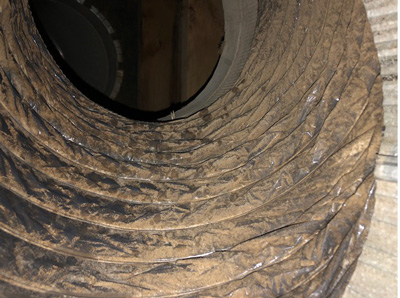 This is a typical duct with lots of dust and possible harmful particles in plain site.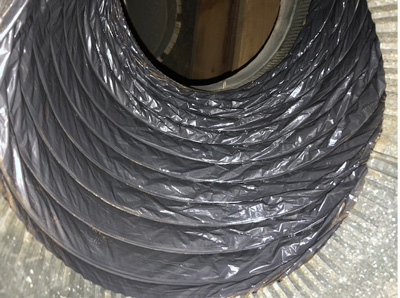 After cleaning, the duct is spotless. Our RotoBrush air duct cleaning tool vacuums out dust, dirt, allergens, and debris and its HEPA filter filters down to 0.3 microns.