A crawl space encapsulation installation is the best way to solve the problems of odors and moisture in a crawl space. Crawl space encapsulation includes installing a thick, heavy-gauge polypropylene sheet on the ground. This plastic sheet is sometimes referred to as a "crawl space liner" or a "crawl space moisture barrier." Full encapsulation also includes applying the polypropylene sheets to the walls and the columns in the crawl space. This barrier will prevent the warm, humid air from entering the crawl space and will help you keep your home free from pollutants and toxins.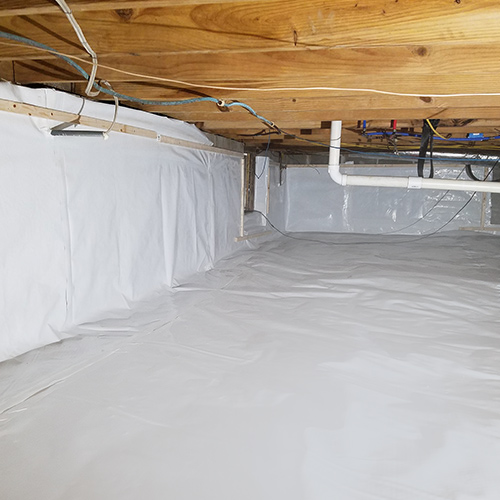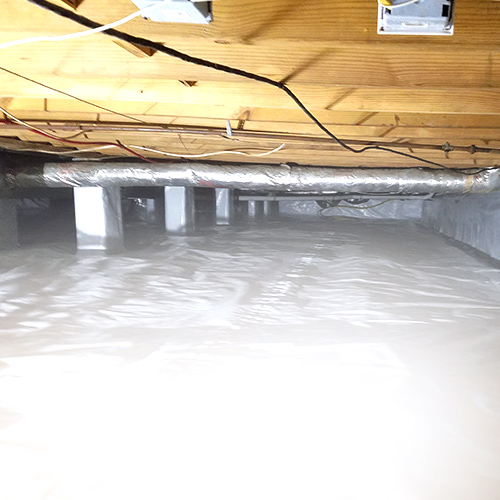 Not All Crawl Space Encapsulation Companies Are Equal
There is a difference in crawl space encapsulation companies. For example, unlike others, our encapsulation service can include a range of options. For example, we can make your existing door air-tight or install a new door. We can install a dehumidifier, as well as sump pumps and French drains. The point is that one size does not fit all. Every crawl space is different and may require different components.
Our full crawl space encapsulation service has a 20 year warranty on materials and workmanship.
At The Clean Air Co. LLC, we are a crawl space encapsulation company that knows "one size does not fit all." Every home is different, of course, and your home might not require a total encapsulation like the photo above. Sometimes, simply making sure that the ground in the crawl space is covered with a continuous, thick vapor barrier is all that is needed. Learn more about our vapor barrier installation service.