Our Tools for Air Duct Cleaning
At The Clean Air Co. we only use the best tools for air duct cleaning. Industry test results indicated that a brush vacuum system was the most effective in cleaning today's air duct systems. Therefore, we chose to use the Rotobrush Air Duct Cleaning System by Air QC.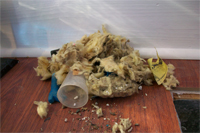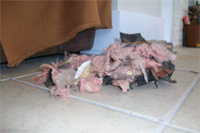 The Rotobrush's powerful vacuum can pick-up just about anything in your duct work (as shown in the photos above taken at two of our clients' homes). The powerful yet flexible Rotobrush easily cleans all type of air duct construction ( flex duct, round metal ducts, square metal ducts, and fiberboard) including right and left angle turns, reducers and multiple bends found in most type of duct system. Our tough yet gentle brushes safely dislodge the dirt, dust and residue found in duct work, from newly constructed homes to homes that are several years old. It is tough enough to get the metal ducts clean yet not damage any flex duct found in most homes recently built.
We also believe it is important to actually see what you are cleaning. So we use the Roto-vision closed circuit TV system with our process. We mount the camera on the cleaning equipment and are able to see the entire cleaning process from inside your ductwork. This shows us (and YOU) where the trouble spots are and then verifies that the job was done right when we are finished!